I know what some of you parents might be thinking, the little bundle of joy is too young to start handling cameras. Fear not as all the cameras featured below as they are all toys. One good thing with toys is that it might trigger a genuine interest in your child that he or she could actually be classified as a budding photographer.
Below are some of my favourites toy cameras that will appeal to both little boys and girls. The cool toy cameras will encourage creativity as well as trying to keep the child occupy as they pretend to photo bomb.
Personalized Wooden Toy Camera - Eco-Friendly
£20.79
This handmade camera is made of wood, beeswax and oil. Makes a perfect pretend play for babies, toddlers, pre-schoolers. It can be given as a gift for a boy or a girl.
Camera Kaleidoscope From Land Of The Nod
$14.95
While it may not take actual pictures, it does have a kaleidoscope inside to entertain your little one.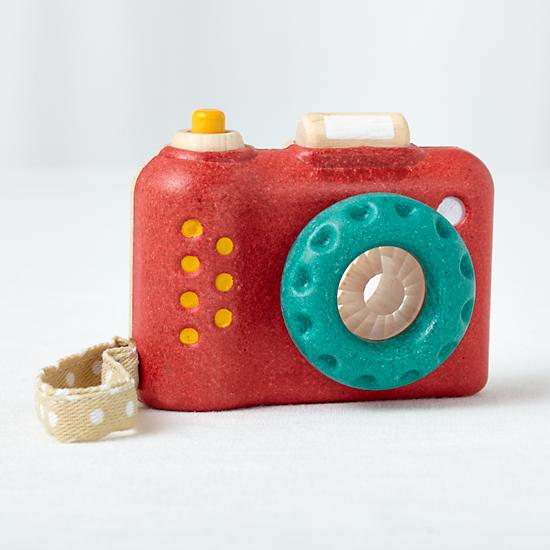 This pretend wooden camera is made of walnut, alder and birch with a red fibre handle for baby to carry it around. It allows the little one to peek through the viewfinder, rotate the lens to focus, and push the springy button to take a picture.
If your child is a fan of the Disney film - Toy Story, he or she will love to have this camera.
The iconic Changeable Disk Camera, originally introduced in 1968, is back for a new generation of children to enjoy. This adorable camera features interchangeable picture disks that are advanced by pressing the "shutter" button. Other features include a take along strap for the aspiring photographer on the go and a rotating flash cube. Comes complete with 3 picture disks featuring: Nursery Rhymes, Goldilocks and The Three Bears, and Animals and their Babies.
In a flash! This Mickey Mouse Talking Toy Camera is the picture perfect way for youngsters to have fun. Press the shutter to activate flash and hear Mickey say different phrases including, ''One more time, big smile now!''